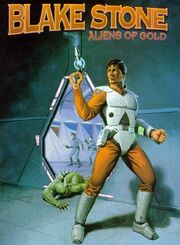 Welcome to the Blake Stone Wiki
This Wiki covers the classic FPS Blake Stone: Aliens of Gold, and its sequel, Blake Stone: Planet Strike. Contribute to this Wiki and share your knowledge.
About Blake Stone
Blake Stone: Aliens of Gold is a futuristic first-person shooter developed by JAM Productions and published by Apogee Software for MS-DOS in 1993. It uses an enhanced version of id Software's Wolfenstein 3D engine. Its sequel, Planet Strike (released in 1994), contains several new features including new graphics, new mutants and bosses, new music, and more.
Which Blake Stone game do you prefer?
Latest activity
Ad blocker interference detected!
Wikia is a free-to-use site that makes money from advertising. We have a modified experience for viewers using ad blockers

Wikia is not accessible if you've made further modifications. Remove the custom ad blocker rule(s) and the page will load as expected.